Double Duty Classroom Products
Double Duty Classroom Products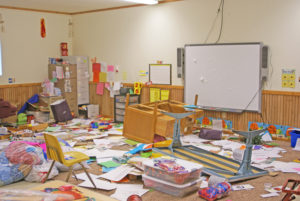 Teachers, let's face it. Classroom clutter can get out of hand!  We know your goal is to create a colorful and stimulating learning environment. But between the materials you need for instruction, what you need on hand for your students, and your classroom décor, things can sometimes get crazy—and fast! But it doesn't have to be this way, thanks to Dowling Magnets' double-duty decorative and functional classroom décor pieces! Each of the two-in-one classroom supplies below serves a serious educational purpose AND looks great displayed in your room, year-round.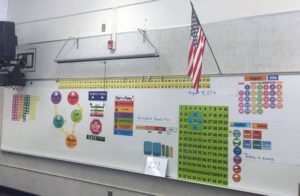 Cut the clutter and capture your students' attention with our:
Giant Magnetic Calendar Set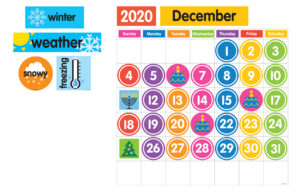 Attracts directly to the whiteboard! Whether serving as a functional classroom calendar or used as a daily calendar activity teaching tool, this magnetic calendar is an awesome addition to any classroom. With bright colors, contemporary design, and large readable pieces, this calendar doubles as the perfect classroom decoration. Includes a calendar grid (dry-erase), dates, days, months, years, holidays, birthdays, seasons, weather word, weather pictures, and temperature magnets. Measures 17.5"W x 16"H and retails for $24.99.
Magnetic Name Plates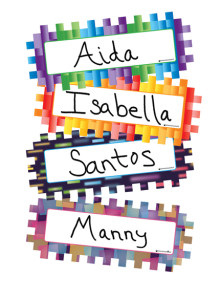 Available in four double-sided designs including Original Geometric, Zigzags & Lightning, Pixels & Dashes, and Circles & Ribbons in bright colors, these nameplates aren't just functional: they're fun, too! Use them for everything from seating charts, organizing groups, and job assignments to instant art galleries, bathroom passes, progress trackers, and more, including instructional activities like the ones outlined in a previous blog post. Sets of 16-20 plates retail for $14.99 each and match our Double-Sided Magnetic Borders, so you can make kid-cool, coordinated classroom décor happen in minutes!
Double-Sided Magnetic Borders

Put down the tape and snap on some magnetic borders instead! While they might not provide an educational benefit, they're faster and easier to put up than paper borders, leaving you more time to plan and teach! Our Double-Sided Magnetic Borders are reversible, too, for a quick classroom refresh in a matter of minutes. And, since they're made from durable and die-cut flexible magnet sheet, these borders last from year to year. Available in Zigzags & Lightning, Pixels & Dashes, and Circles & Ribbons, each 12-piece set retails for $16.99.
Science Pics Magnet Set

Bring science to life with this fun set of brightly-colored science magnets, perfect for adding some scientific flair to your room year-round! Including iconic scientific images such as test tubes, goggles, magnifying glasses, and more, these flexible magnets turn your whiteboard into a science lab to introduce various science lessons, present science vocabulary and get kids excited about scientific investigation. Set includes ten 6" magnets and retails for $16.99.
School Signs Magnet Set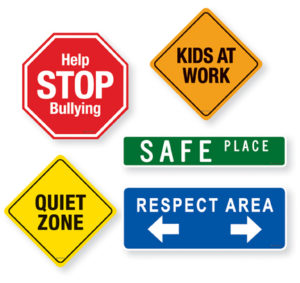 Encourage positive student behavior from the first day of school to the last! This inexpensive, teacher-designed set includes fun road-sign themed flexible magnets that encourage positive school culture and good student behavior all year long. These respect-inspiring signs attach easily to magnetic whiteboards, filing cabinets, or metal doors in classrooms, hallways, and other common areas throughout school buildings. Just place them at eye-level for a constant, readable-from-afar, reminder about appropriate behavior. Set of five signs retails for $10.99.
Tags: classroom , classroom borders , classroom calendar , classroom decorations , classroom displays , decorative borders , magnetic borders , magnetic classroom calendar , magnetic classroom tools , magnetic name plates , magnets , name plates , school signs , school signs magnets , science , science magnets , teachers
Share This: