Top Ten Items Teachers Can't Live Without
Functional, affordable, must-haves for this year's classroom!
Fellow teachers, it's time… Time to open up the ol' classroom, re-cover our boards and replace our borders, put up posters, sort stacks of books, set up chairs and tables in the latest configuration for maximum cooperation… the list goes on and on. In other words, it's time to head back to work!
Luckily, we're here with the top ten items to make classroom set up and year-long management, well…a snap! Add these versatile affordable, re-usable, and uber-functional products to this year's shopping list – you'll be glad you did.
1. Magnetic Ceiling Hooks
Let's face it. We work in tight quarters, and w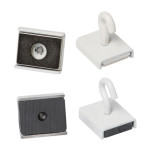 e've got to make the most of the space we've got. Make this the year you go minimalist (okay, okay, that's probably not going to happen) by utilizing your ceiling as display space! Hang posters, reminders, artwork – particularly 3-D artwork that gets lost on a flat board – and add some dimension to your room, while keeping your boards tidy and uncrowded!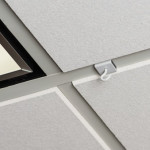 Shop smart and look for rectangular ceiling hooks – these fit anywhere along your ceiling's metal rails (depending on the width of your ceiling rails, the other hooks out there with a round design may only fit at the junctions). Choose from ceramic magnets, which can hold up to 13 pounds, and neodymium (rare earth magnetic material) which can support an amazing 20 pounds!
2. Hall Passes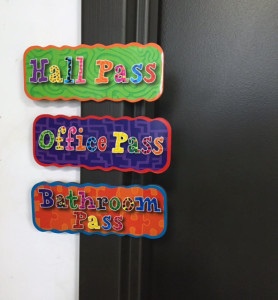 Continuing down our de-cluttered path, consider Magnetic Hall Passes this year. It's time to trade that grody, oversized hubcap or wrinkled, laminated note you've been using in for an easy-to-find, hard-to-forget magnetic version! Magnetic Hall Passes line up neatly on the inside of your hall door frame, stick to bathroom doors (let's pause to imagine where your students set your current passes down–ewww!), are too big to forget to return, and, trumpets please…can be wiped clean with disinfectant or sanitizer.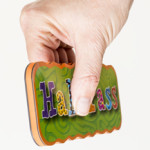 Including clever, street-themed, magnetic signs (bullying, quiet, work zone, etc.), this set will help you establish a positive classroom culture from the very beginning of the school year. Put them up in your room – and in common areas throughout your school – to remind students of the behavior that's expected in their school community.
4. DIY Magnets
Make use of the metal in your room by using it as display space! Magnet Tape is the perfect way to display papers, photos, and fragile artwork – it's thin, flexible adhesive is designed not to damage. Magnet Adhes

ive Dots can hold slightly heavier arts and crafts from the back, without flattening or crushing. And Adhesive Magnet Strip can be cut into any width or length you need and has stronger holding power. So go ahead, turn that door, filing cabinet, or unused whiteboard into a custom display area!
5. Magnetic Dry-Erase Lapboards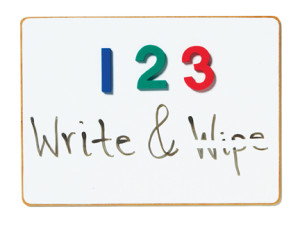 Lapboards save paper and keep students in their seats. What more could you ask for? Well, a magnetic dry-erase lapboard, that's what! Look for ones that are double-sided, slim and lightweight, very durable (not easily bent), and have little to no ghosting after erased.
Perfect for student centers, small group activities, and individual seat work, student-size Magnetic Dry-Erase Boards are not just write-and-wipe surfaces – they're also great for use with magnetic manipulatives.
6. Display Magnets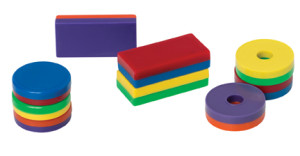 Magnets are a classroom staple, but make sure you get your money's worth by buying a set that's strong enough to hold more than a single sheet of paper. Extra-strong magnets can hold stacks of permission slips, lunch calendars, and more. But be careful – they can also be hazardous if swallowed and may pinch little fingers. Look for chunky, super-strong magnets that are completely encased in plastic for the strength you need and the safety your students require. (Strong magnets are also the perfect props for many science experiments, so this purchase will do double-duty!)
7. Caution Do Not Erase Magnet Set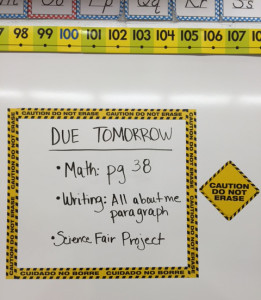 Save time – and your work – with the Caution Do Not Erase Magnet Set. Just slap these suckers around the work you want to preserve on your whiteboard– the bright, bold design stops wipe-happy students and custodians in their tracks – and protects important messages and work.
8. Magnetic Erasers
Speaking of erasers, let's make this the year you stop wasting time searching for yours! Magnetic Whiteboard Erasers are right there, at your fingertips, when you need them. With plenty of fun designs to choose from, you can also add some bling to your board with a deco'd eraser. If you do go deco, look for an option with a non-porous top surface – these last longer. (We all know how the foam top surfaces can pick up marker smudges from your fingers and how students love to dig their fingernails into the foam and pick at it–ugh!) Magnetic Whiteboard Erasers with non-porous top surfaces can be wiped clean and sanitized too, and have brighter designs.

9. Magnetic Name Plates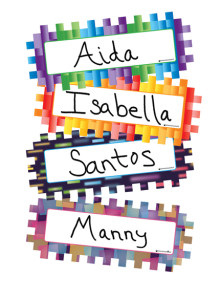 Save money with super-versatile Magnetic Name Plates. Use them to label kids desks, cubbies, and lockers (no more paper labels peeling under layers of clear tape!) or to create instant art galleries, organize cooperative groups, label your file cabinets… the uses are nearly endless. And with a write-and-wipe surface, these will get used year after year. Many feature fun designs, to add a little style to your space.
10. Double-Sided Magnetic Borders
Put down the stapler and go for magnetic borders this year! They're so much easier to put up, they stay up, and you can use them again and again…around whiteboards and even metal door frames! Choose a REVERSIBLE border set so you can switch up your style throughout the year – Dowling Magnets' Double-Sided Magnetic Borders coordinate with t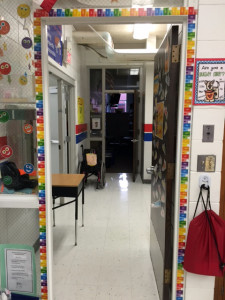 heir magnetic name plates for a cohesive look across the room.
With the right supplies, setting up your classroom – and keeping it organized and de-cluttered throughout the year – is a breeze! With all the time you'll save, we recommend wandering down the hall to see if anyone left any goodies in the lounge…
Tags: Dowling Magnets , hero magnets , magnet hooks , magnet strip , magnetic hall passes , magnetic name plates , magnets , school signs magnet set , strong magnets , teacher resources , teachers tools
Share This: