Put a Stopper In Summer Brain Drain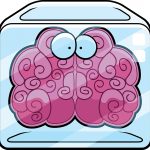 Summer's here! Time for Slushie brain freezes, cannonball contests, picnics in the park, and, unfortunately, summer slide. According to recent research, students in grades 1-8 can lose up to 34% of their school year gains over the summer and, on average, kids lose about a month's worth of learning, forcing teachers to backtrack at the beginning of the year, which puts students even further behind.
Fortunately, slowing summer slide and keeping your kids on track for academic success is simple. It just takes a bit of time and a commitment on your part to make summer learning FUN!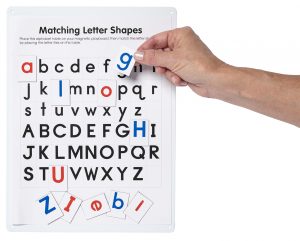 Yup, we said FUN. F.U.N, which, coincidentally, is a word kids can spell using our Fun with Letters Magnet Activity Set! Little learners can practice letter names, sounds, alphabetic order, CVC spelling, and reading with this color-coded set of 144 upper- and lower-case fridge magnets (and included magnetic board). Making dinner? Ask your kiddo to find the letter "M" for "meatballs" or to find the letter that makes the "ssss" sound in "spaghetti". Or challenge them to spell "DOG" – like the one who will snarf the garlic bread that falls on the floor. We've got numbers covered too! Ask your mini mathematician to find the number of cookies they'd like, the number that corresponds to the apple slices on their plate, or to complete a simple math equation using the 100 magnetic number and operations symbols in our Magnetic Numerals set.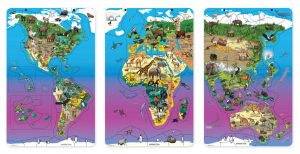 After a super fun day chasing said dog through the sprinklers, little animal lovers can spend some quiet time inside placing 100 endangered, threatened, and common animals into their proper habitats on one of three Animal Magnetism Wildlife Map Puzzles! Choose from North & South America, Eurasia & Africa, and Asia & Australia, and learn about each area's animals and geography as you place the pieces on the magnetic board (magnetic = you'll never lose another puzzle piece!). Enhance this simple science activity by asking your child what they think each animal might eat, where it might sleep, what each environment is like, and other thought-provoking questions.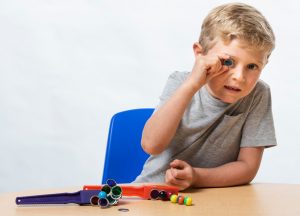 You can also slip some science into your little one's summer with the Simple Science™ Magnet Mania Kit, featuring two magnetic wands (no more fighting!), 10 magnet marbles, 50 magnetic counting chips, and an activity book packed with experiment ideas. Roll the marbles toward to wand to see what happens… hold the wand near the chips and count the number that "jump" onto the wand… go on a scavenger hunt around the house to see what's magnetic and what's not… make a fishing game with paperclip fish and wand rods… and so much more! The parts are also perfect for practicing matching, sorting, and patterning – key early math skills. Make a patterned marble snake, then take it for a walk with your wand!
STEAM stands for science, technology, engineering, art, and math and it's a big deal at school.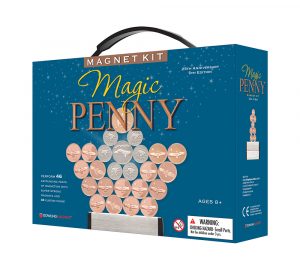 Big kids can put the principles of science and engineering into play as they create amazing, artistic sculptures with the Magic Penny Magnet Kit. Kids follow the instructions in the guide to perform 46 astounding feats of magnetism using two super strong magnets and 35 custom coins. Magically move pennies up raps, over bridges, and along tightropes! Build gravity-defying sculptures and levitating pyramids! Spin pennies at 1,000 revolutions per minute! And more!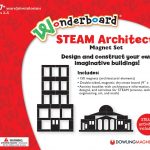 Your awesome architect can also build their skills with the Wonderboard® STEAM Architect Magnet Set featuring 150 flexible, magnetic, architectural elements and a double-sided magnetic dry erase board. Perfect for road trips, kids can design cool buildings in a variety of architectural styles and complete the hands-on activities in the included activity booklet.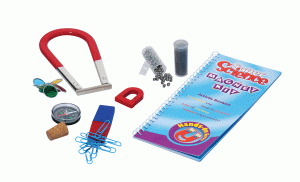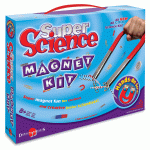 Older kids can keep their brains sharp this summer with the Super Science Magnetic Kit, including all the materials kids need to make their own compass, observe invisible force field patterns, compare magnet strength, and more. Then they can put their knowledge to the test with the Science Discovery Kit: Magnet Levitation. Complete five projects, including making your own magnetic pendulum and constructing a magnetic train that really levitates, then try five experiments introducing attraction and repulsion, temporary magnetism, magnetic strength, and more.
Visit DowlingMagnets.com today for other engaging, hands-on learning activities perfect for putting a stopper in summer brain drain!
Tags: magnet fun , stop summer slide , summer learning , summer science projects
Share This: