Design houses, temples, and other structures in eight different period styles – using Magnets!
Kids are beyond bored after staying safe at home for so long – and now we're heading into summer! If your family is longing to live in someone else's house for a while, let them design their dream home (or castle!), with the Wonderboard STEAM Architect Magnet Set!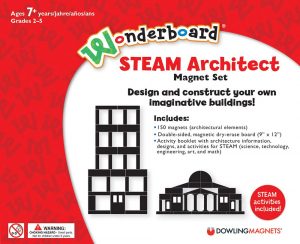 A playful way to sneak in some STEM – and STEAM (STEM with an added artistic element) – learning at home, the Wonderboard Junior Architect Magnet Set has been redesigned to align with the latest academic standards, including Common Core and Next Generation Science Standards. Exploring architectural principals and designing custom structures is a fun way to build spatial geometry skills (understanding points, lines, polygons, polylines, and so forth). And, of course, kids get a great introduction to the wonderful world of architecture!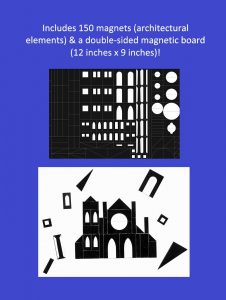 A best-seller with a brand-new refresh, this STEM learning set comes with 150 magnetic architectural elements, a six-page booklet with architectural background and examples, and a double-sided magnetic dry erase board. Kids start by browsing the booklet to get a sense of the architectural elements and styles used during different architectural periods, including those from the ancient world, Early Christian period, medieval times, the Renaissance, and modern day. Then they use the included architectural magnets to replicate the classic shapes and structures of each period – or to design their own masterpieces utilizing the styles and characteristics of that era. They can play with scale, design, and structure simply by snapping one magnet off and putting another in its place. Once they're done designing, kids can put their engineering skills to use completing nine different STEM activities ranging from testing magnet strength to designing a magnetic maze, exploring symmetry and more. Activities include building, thinking, and writing components for a deep, whole-brain experience.
And when we're able to get out and about again, toss this set in the car and take it with you – magnetic play is perfect for on-the-go entertainment!
Tags: architecture , magnet puzzle , STEAM
Share This: