Wonderboard Make-A-Face Now Offers Multi-Cultural Faces!
Wonderboard Make-A-Face Now Offers Multi-Cultural Faces!

Wonderboard® Magnet Sets have been a staple in our line for many years. As a perfect early learning tool – as well as special needs tool (simple white board to keep focus, and easy-to-manipulate magnet pieces) we are proud to share a new extension of our famed Make-A-Face magnet set.
Traditionally, the Make-A-Face set comes with one overlay sheet with two faces. Recently we received this comment from one of our valued customers:
"Is there a way to have faces available for our multi-cultural children? We are a life learning center and cater to families of all races and nationalities. Our children find it much more satisfying if they can build a face on one that more closely resembles their own."
This request really touched us!
We are an educational magnet company for all, and as such, we want our products to appeal to children – both young and old – and from every heritage.
We immediately went to work to create four additional face sheets for our Wonderboard Make-A-Face product so that all children of all ethnicities can pretend-play in a most authentic and practical manner.
Here's a sample of the new Make A Face Sheets available for download.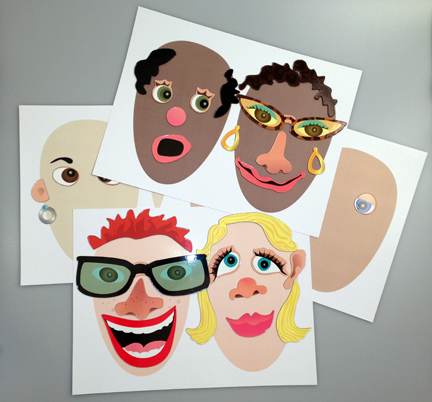 To view and download additional face sheets, please click the link below.
Wonderboard(R) Make A Face Sheets
For best results, we recommend printing on high-quality photo paper.
Have fun! And if you create an extraordinarily fun, funky or silly face, we invite you to SHARE it on our Facebook page!
From your friends at The Magnet Factory
Tags: ethic faces , multi-cultural faces , pretend-play for early learners , Wonderboard Magnet Sets
Share This: