The Years Fly By…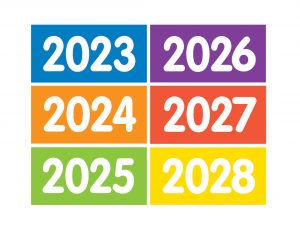 If you're one of the hundreds of thousands of teachers who purchased our best-selling Giant Magnetic Calendar Set in years gone by, we've got great news for you. We're offering a free, downloadable update to extend the life of your calendar set! Simply click here to view print this set of six colorful graphics for the years 2023-2028, then trim and tape your printouts over your previous years' magnets.
If you haven't ordered your Giant Magnetic Calendar Set yet, today's the day! Perfect for morning meetings, daily calendar activities, lessons on seasons, months, weather, holidays, and so much more, this comprehensive calendar set includes 94 colorful, durable magnets that attach easily to your classroom whiteboard.
Save time and eliminate paper waste by creating your own, oversized monthly calendar, complete with year, month, days of the week, and numeric dates! Start with our blank calendar grid, add the appropriate day and number magnets, mark up to eight student birthdays with the adorable birthday cake magnets, and note special days like Memorial Day, Halloween, Thanksgiving, Christmas, Hanukkah, Martin Luther King, Jr. Day, and others with 13 illustrated holiday magnets.
You can also conduct a mini-science lesson each morning by marking each season with the color-coded Fall, Winter, Spring, and Summer magnets and noting the weather with one of five color-coded thermometer magnets, including freezing, cold, cool, warm, and hot, and one of six illustrated snowy, rainy, foggy, windy, cloudy, or sunny magnets.
The Giant Magnetic Calendar Set measures 17.5″W x 16″H and attaches to standard whiteboards. Order your set now!
Tags: Dowling Magnets calendar , giant calendar years , updated years
Share This: