Ready for Take-off!
Classroom Management from Your "Cockpit"
Like the cockpit of an airplane, your whiteboard is the central hub of your classroom. It's where the majority of your demonstrations take place…and where your students often focus when they know it's time to pay attention. In other words, your whiteboard is a pretty important spot in your room! Keep things running smoothly from it—and throughout the class—with these organizational and management tips that will make sure you're ready for "flight":
Keep an Eye on Your Students!
No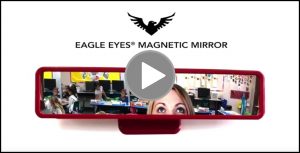 w even when your back's turned to face the board, you can convince your students that you have eyes in the back of your head! Eagle Eyes, that is! Yes, the Eagle Eyes® Magnetic Mirror helps you catch students in the act, but it's a great deterrent of negative behavior too.
This sturdy, wide-angle whiteboard mirror also helps you make sure your students are safe. Immediately see if someone enters your room (or even just walks by your door). It's super easy to mount—simply place it at the top of your whiteboard, and the strong magnets inside make it stick instantly. You'll have a crystal-clear, adjustable view of everything behind you…including your principal who snuck in for a surprise observation! MSRP $19.99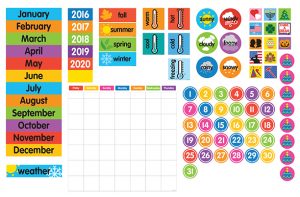 Hold your daily morning meeting directly from your whiteboard with our Giant Magnetic Calendar Set! Just stick it on your board, leave it up year-round, and get each day started quickly and easily with this blank calendar grid and magnetic pieces for the years, months, days, dates, birthdays, holidays, weather words, temperature symbols, and more. MSRP $27.99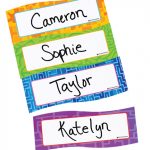 Quickly create everything from seating charts and cooperative groups to role assignments using Magnetic Name Plates! Each of these 20 colorful (and reusable!) magnetic plates features a dry-erase surface with ample writing space…saving you time, paper, and money! Simply write your students' names on the plates, write your task/roles list on the whiteboard, and then shuffle the names plates around as needed. MSRP $14.99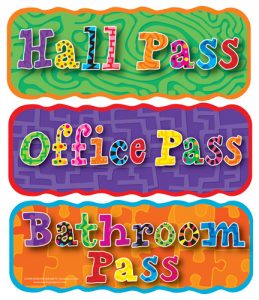 Keep Magnetic Hall Passes handy, so students can grab them without interrupting your lessons! Just stick them to the edge of your whiteboard, filing cabinet, or door frame. Their durable, chunky foam construction makes them difficult to lose (hard to walk off in a student's pocket permanently). Set of three includes a Hall Pass, Office Pass, and Bathroom Pass. MSRP $11.99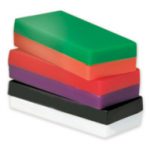 Get all those stray papers on your whiteboard in order and eliminate the messy piles of paper that are all ove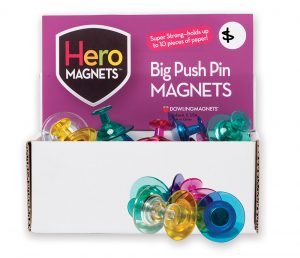 r your room. Use magnets to store those stacks instead! Big Block Magnets hold up to 20 pieces of paper each. You also can hold up to 10 pieces of paper or hang lanyards, key rings, or ring-bound flash cards with Big Push Pin Magnets. Both sets of these jumbo, heavy-duty magnets are completely encased in plastic and totally kid-safe, so no worries if little hands grab them.
Big Block Magnets: Set of 40 MSRP $39.99, Set of 3 MSRP $4.99
Big Push Pin Magnets: Set of 30 MSRP $45.99, Set of 6 MSRP $9.99
Your formative assessment helping hand! Quickly check comprehension without having to wander around the classroom, using Fist to Five Check Magnets. Simply place the easy-to-read strips on your whiteboard for student reference, then call "Fist to Five Check" at any point during your lesson, and students will raise their hands to show you their levels of understanding. Use horizontally or vertically to save space. MSRP $8.99
Since we know your time and budgets are tight, we've bundled some of our best-selling whiteboard accessories into one money-saving set that includes 6 Big Push Pin Magnets, 6 Button Magnets, 5 Ceramic Magnetic Hooks, 3 Big Block Magnets, and 1 Magnetic Whiteboard Eraser. MSRP $29.99 (over 14% savings!)
With these simple tips and cool tools added to your flight plan, you'll be sure to keep your classroom on course until you land at the end of the school year!
Tags: classroom organization , magnets for organization
Share This: