Expect MORE from Everyday Learning Essentials
Expect MORE from Everyday Learning Essentials
Teachers, let's make this the year we shake up those everyday essential learning tools and make them…
MORE effective for learning
MORE cost-effective…and
MORE durable!
Learning the basics can be so much MORE when you use magnetic manipulatives. As you start thinking about the next school year, consider how costly it is to continually replace literacy and math materials that don't function, let alone motivate and instruct! Replace flimsy, torn, and uninspiring literacy and math tools in your room with Dowling Magnets versions designed to last in the real world…and to make learning stick, too.
Magnetic Letters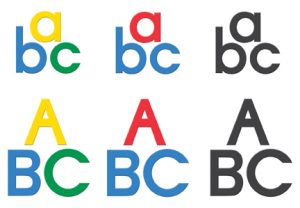 Magnetic letters are a must in the preschool and primary classrooms. There are many varieties out there, but look for chunky foam letters that are easy for little fingers to grab (because foam is flexible and has texture).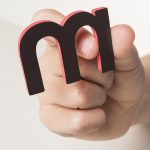 Also, make sure you choose magnets with backs that are completely covered with magnet sheet. The strengths of a magnet's hold vary greatly depending on the surfaces you use them on, so the best way to ensure your magnetic letters won't slip is to select letters with back sides that are fully covered with flexible magnet.
Learning is way more effective when you choose the right color(s) of letters for the job! Dowling Magnets Foam Fun Magnet Letters come in a variety of options to meet students' needs:
Magnetic Sentence Strips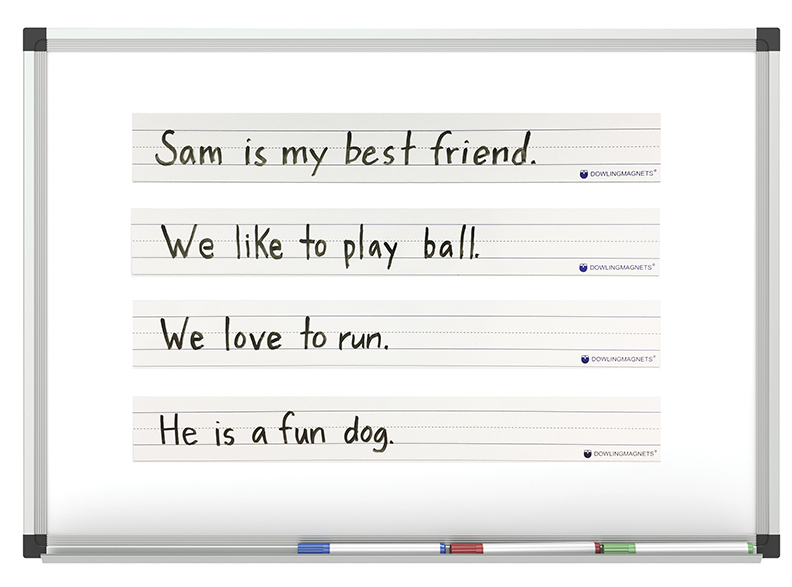 Demonstrate sentence building, word building, writing, grammar, punctuation, and so much more with Large Sentence Strip Magnets. Cut them to any custom size—even make word-size strips if you wish!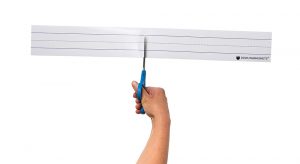 Skip the 5-packs of magnetic sentence strips on the market in favor of this more economical 10-pack of full-size strips that gives you more teaching flexibility! You can use them for teacher demonstration of course, but we love that this big pack of 10 allows you to pass them out to many small groups or to a couple of groups working on full paragraph writing. Then, each small group can place what they wrote on the whiteboard for everyone to review together.
Here's the most important part…when you're finished using them, just give them a wipe. Despite the complaints about marker residue from other brands on the market, the special surface coating on Dowling Magnets Large Sentence Strip Magnets actually wipes completely clean for years of use. (As directed, use DRY-erase markers and erase after the writing is DRY.)
Magnetic Number Line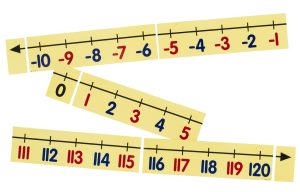 It's pretty common for a teacher to put a very long number line across the top of her whiteboard (that stays here year-round). That sounds like a great idea, but in order for that entire number line to fit, it has to be very TINY…too tiny for any of the students to actually read it from their seats!
And, why are most magnetic number lines on the market WHITE if they were made to be used on WHITEboards? That makes no sense! With a YELLOW design that really POPS visually from the whiteboard, numbers from -10 to 120, color-coding that reinforces odds and evens; and an easy-wipe, dry-erase surface; this Magnetic Demonstration Number Line is bigger, brighter, and easier to see than any other option!
Magnetic Two-Color Counters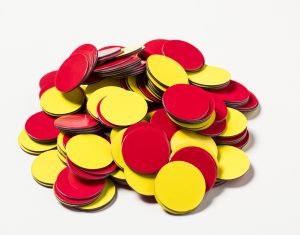 Teach counting and cardinality, operations, base-ten concepts, and more with Magnetic Two-Color Counters that will stick to your board. So useful in the classroom, they can even be used for taking surveys, charting other kinds of data, or just putting a mark next to a student's name on the board. With a pack of 200, you can keep them handy all the time! Even better, you'll never have to search for the right color at the right time again because these Magnetic Two-Color Counters are double-sided (red on one side, yellow on the other).
Magnetic Base Ten Blocks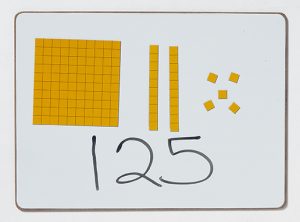 Understanding place value is a foundational math skill, and Dowling Magnets Magnetic Base Ten set makes it so much easier! Easily manipulate visual representations of place value, operations, fractions, decimals, percentages, and more, with 2 flats, 20 rods, and 40 units. Sized for student practice on their magnetic lap boards (sold separately), this flexible set can be used to informally tally data displayed off to the side on your big board as well.
Dowling Magnets learning tools really are so much MORE! Get MORE value, MORE years of use…and make MORE of an impact in the classroom! Want to see even MORE? Check out the full range of English Language Arts and Math products today.
Tags: base ten , big magnetic number line , essential learning tools , magnet letters
Share This: