Slip a Surprise into Your Back-to-School Line Up!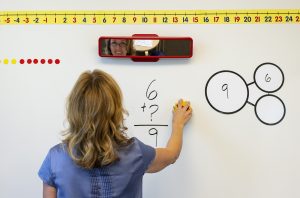 Back-to-school season is nearly here, and soon business will be booming!
While you may have placed your large orders for the season already, we've got a classroom safety and management tool that you're definitely going to want to sneak into your product mix…The Eagle Eyes® Magnetic Mirror!
This easy-mount, wide-angle, magnetic mirror makes so much sense! We can't believe no one thought of it before! Teachers simply place the magnetic mirror on their whiteboards for a crystal-clear, adjustable view of the students behind them. This easy classroom management tool also lets teachers know immediately when someone has entered, or walked by, the classroom door—a school safety must-have!
The Eagle Eyes® Magnetic Mirror features:
Clear, wide-angle, mirror with encased magnets and a non-slip base for a firm hold—perfect for the classroom
Hanger holes for mounting on non-magnetic surfaces too (walls)
Adjustability up and down and left to right
Manage student behavior (makes a great deterrent), prevent distractions, and keep your eyes on classroom safety!
Mirror measures 18 W x 3.5 H x 3.5 D.

At an MSRP of $19.99, the Eagle Eyes® Magnetic Mirror really is a BTS must have.
Plus, order a case now, and we'll send you a sample…FREE! Mount it in front of your register to keep an eye on your counter while your back is turned – "I see you!" is a great way to talk up the product to your teacher customers 😊 and to secure a sale for your store.
If you don't sell in a brick and mortar store, no problem! We'll send you a free sample to try out in your workspace if you order a case. Psst—see who's sneaking up behind you in the office!
Email Orders@DowlingMagnets.com to place your order – and receive your sample – today!
Tags: classroom mirror , magnetic mirror , whiteboard mirror
Share This: