Magnets Make Writing Easier!
Magnets Make Writing Easier!
Making Literacy Easier – With Magnets!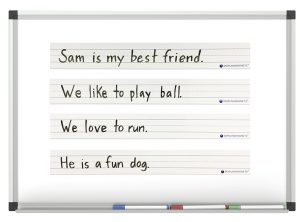 Whether children are ready to begin constructing letters, words, sentences, paragraphs, or essays, magnetic literacy manipulatives and related tools can help them master the critical concepts of reading and writing. When paired with student-size magnetic lap boards , magnetic letters and words support students as they practice handwriting, phonics, spelling, sentence building, and more, either individually, one-on-one with a teacher/specialist, or in small groups. Demo-size letter, word part, sentence strip, and writing process magnets are great for whole-group instruction as well. Read on to find some of our best-selling magnetic teaching tools for whole-group, small-group, one-on-one, and individual learning—at the right level (that's the key!)—to meet each of your students' needs:
Letter and Word Construction
Measuring 3"H, Let's Build™ Words Magnets are extra-large for teacher demonstration! They are even color-coded to support emergent readers as they begin to distinguish vowels (red) from consonants (blue). You can introduce or "quiz" students on individual letter shapes/names and sounds, or use the letters in conjunction with the included word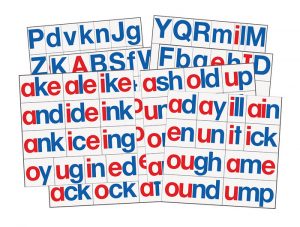 chunks to model word building and key phonics concepts on the classroom whiteboard. Set includes 26 uppercase letters, 26 lowercase letters, 57 rimes/word endings, 4 digraphs, 8 blanks, and an activity booklet full of ideas. MSRP $34.99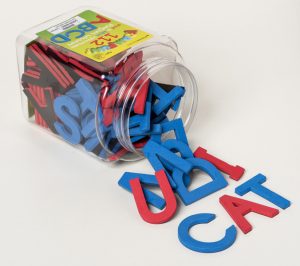 As they watch you demonstrate, children can use smaller letters on magnetic lap boards to follow along at their desks (or work in small groups later). Red and blue Foam Fun®  Magnetic Letters (made of thick foam) are ideal for young children who are still struggling with fine motor skills and who also would benefit from the use of a consistent color-coding system (same color coding as the demo-size Let's Build Words Magnets). To learn letter shapes, children can trace the surfaces of the foam letters—their surface texture offers a uniquely tactile "drag" fee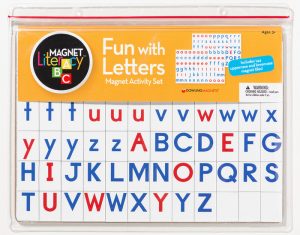 l that appeals to curious learners! Buckets of 112 magnet letters (uppercase or lowercase) with an included activity booklet are available for a MSRP of $21.99.
Children who do not need as much fine motor support can learn to write letter shapes and build and write words using the flexible magnet sheet tiles in the Fun with Letters Magnet Activity Set . Also following the same color-coding system (red vowels and blue consonants), this set includes 113 lowercase letters, 26 uppercase letters, 3 customizable blank tiles, an activity booklet, plus a magnetic dry-erase board (blank). MSRP $14.99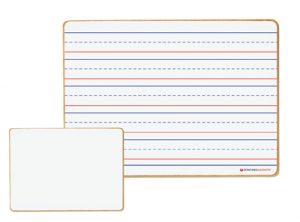 Durable (yet slim), versatile, and double-sided, our Magnetic Dry-Erase Boards stand the test of time and offer twice the workspace! Children can use magnetic letters or tiles to review letter shapes on the blank side of the board and then flip their boards and use the support of the ruled lines to practice handwriting letters (or words or sentences when they've progressed). Use with dry-erase markers in classroom centers, at home, or for travel. Boards measure 12"L x 8.75"W each. Double-sided blank boards are also available. MSRP (set of 5) $19.99.
Sentence and Paragraph Construction

When it's time to move on to sentence construction, start by using these Large Magnet Sentence Strips on the whiteboard at the front of the classroom to model how to build a proper sentence and punctuate it correctly. Write what you like (in dry-erase marker), then wipe clean and begin again. Once students are ready to move on to building paragraphs, pass out the strips to small groups of students and have each group work together to write one of the sentences (topic sentence, sentences with supporting details, conclusion sentence) that make up a paragraph. Then invite the groups to post their sentences on the board and arrange them in logical order. Set includes 10 re-usable, dry-erase sentence strips, each measuring 24"L x 3"H. MSRP $15.99.
Essay/Composition Construction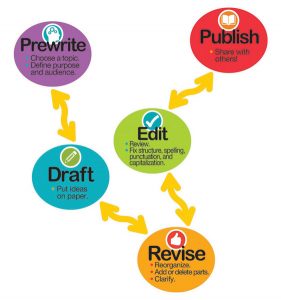 Did you know that the writing process is the most commonly taught process of any subject in the elementary grades? This set of Writing Process Magnets features nine large, colorful magnets that clearly define each step of the writing process.  The magnets also feature sub steps to support students every step of the way. Ideal for writer's workshop! Present the whole process from beginning to end or place one step on the whiteboard to discuss it in more depth. Great for tracking student progress of writing assignments too! Simply display all the ovals vertically and write students' names next to the step they're working on! MSRP $20.99.
Tags: dry-erase magnetic sentence strips , Magnetic letters , magnetic teaching tools , magnetic words , reading , sentence construction magnets , sentence strips , spelling , word building , word building magnets , writing
Share This: