Chunky Magnets for Super Safe Science!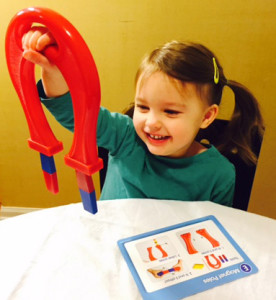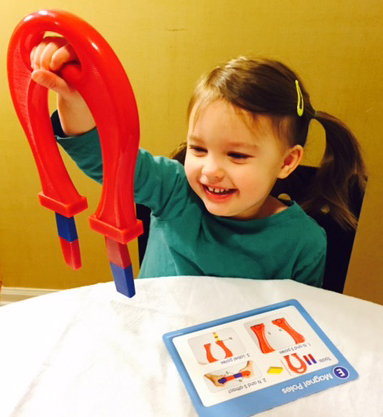 Amaze your kiddos – at home or at school – with the magic of magnetism! Our super-safe Chunky Magnet Set is perfect for introducing one of the most awe-inspiring principles of science to even the youngest kids.
Featuring over-sized versions of the three most common magnet formats, the horseshoe, bar, and wand, this set has everything you need to draw kids into magnetic exploration.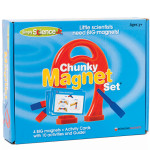 The large size is easier for small hands to grasp. With plastic encasing each magnet completely, and every part larger than a choke tube, this set is super safe, even for preschoolers. But hey, we've heard that even second graders and beyond love this set!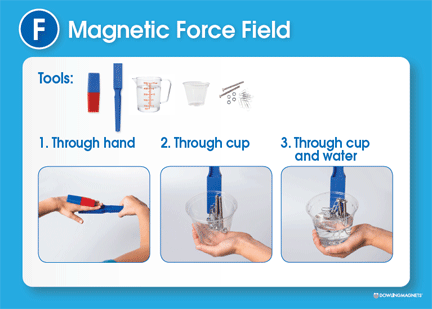 Even the smallest scientists will be learning in no time, thanks to durable, photo-illustrated cards featuring 10+ magnet activities. With no reading required, kids just follow the photos and jump into the engaging, hands-on experiments! Through playful investigation, kids explore magnetic poles, attraction, and repulsion; test magnetic strength; magically move objects through liquids and solids; and so much more!
Teachers and parents can supplement the fun (and tap into kids' prior knowledge) by reading aloud the included fun facts and by introducing or reviewing the terms in the glossary.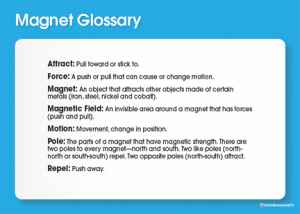 The Chunky Magnet Set is also perfect for STEAM learning (STEM + Art)! Activity cards detailing sensory-based drawing and painting activities combine scientific magic with artistic creativity for truly one-of-a-kind magnetic masterpieces!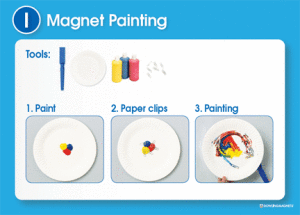 Introduce your kids to the amazing world of magnetism, with this basic set, perfect for your classroom science station, sensory table, or living room floor. Set includes one giant horseshoe magnet, two bar magnets (with color-coded red and blue poles), a magnet wand, and activity cards.
Tags: Bar magnet , big magnet set , big magnets , early magnet set , first magnet set , first magnets , First science set , horseshoe magnet , magnetic activities , magnetic activities for preschoolers , magnets , my first magnet set , oversized magnets , preschool magnet activities , preschool magnet set , preschool magnets , preschool science , preschool stem activities , primary magnet set , safe magnets , safe magnets for children , science activities for preschoolers , STEAM learning , STEM learning , toddler science , wand magnet
Share This: