Give a Gift with Snap – Magnet Toys that Attract Curious Minds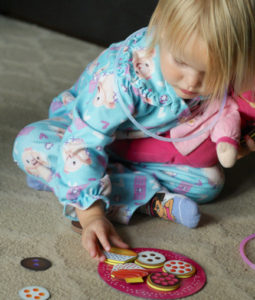 Give the gift of curiosity this holiday season with magnetic toys that teach AND delight! Kids love magnets, and our award-winning line of magnetic playthings makes the perfect presents. Be sure to add the items below to your holiday gift list this year—the little ones in your life will thank you!
Magnetic Sweets™ Sort & Play Set, Ages 3+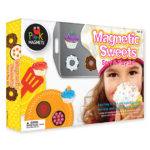 Early learning has never been so sweet! Little bakers sort and match colors and shapes (and practice numbers and counting) with this adorable set sized perfectly for preschoolers. With 50 magnetic pieces that really stick, there's no time wasted searching for lost parts. Perfect for dramatic play fun! Set includes 10 cookies, 6 cupcakes, 6 donuts, 22 coordinating icing pieces, 4 double-sided plates, double-sided cupcake pan/cookie sheet, and a plastic spatula. MSRP $19.99.
Chunky Magnet Set, Ages 3+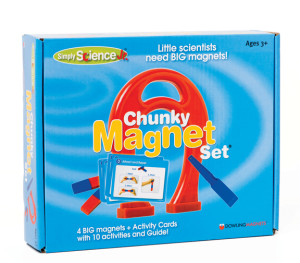 Even the youngest kids can experiment with magnetism, thanks to oversized versions of the three most common magnet formats (the horseshoe, bar, and wand) plus 10+ magnet activity cards covering magnetism, magnetic poles, attraction and repulsion, magnetic strength, and more! Each activity card features simple, photo-based instructions, so even non-readers can get in on the fun! Larger magnets are easier for small hands to grasp. And, with plastic casing surrounding each magnet and every part larger than a choke tube, this set is super safe for kids as young as three. It's also super fun for second graders and beyond! Includes one Giant Horseshoe Magnet, two bar magnets in red and blue, a Magnet Wand, and 10 activity cards. MSRP $19.99.
Magnetic USA Puzzle Map, Ages 4+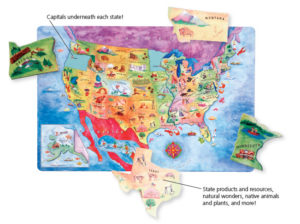 Give the gift of gorgeous geography with this magnetic United States puzzle map! The design of this beautifully-illustrated puzzle is inspired by a watercolor painting and features the state's capital (underneath each state piece), resources, natural wonders, and more. State puzzle pieces attract securely to the 12" x 18″ magnetic dry-erase board. The set comes complete with an activity sheet loaded with fun facts and state information. MSRP $19.99.
Mysterious Magnet Tube, Ages 6+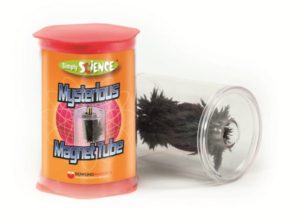 Wow, totally tubular—view a magnetic force field in 360 degrees! Transparent tubular container includes iron filings and features a center chamber into which you insert the included cow magnet. Then simply turn the tube and watch the filings move into formation and make beautiful 3-D patterns! Moms love this gift too because the sealed plastic display tube means no messy iron filings all over the place! Includes display tube (5.13" x 3.5") with permanently encased iron filings, alnico cow magnet, and activity booklet. MSRP $20.99.
Magic Penny® Magnet Kit, Ages 8+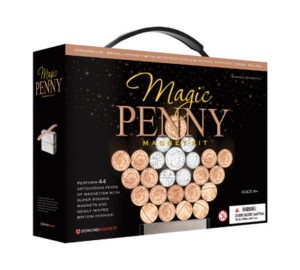 Surprise the junior science lovers in your life with Magic Penny! Kids can perform 44 astounding feats of magnetism including magically moving pennies up ramps, over bridges, and along tightropes; spinning a penny at 1,000 revolutions per minute, and building gravity-defying structures and levitating pyramids! Plus, they'll be exploring the concepts of magnetic force, motion, and stability while they play—STEMtastic! Best-selling set includes two super strong magnets encased in stainless steel, 32 newly-minted British Pennies plus a bonus US penny, and an activity booklet packed with magnet facts, penny history, and a whopping 44 activities! MSRP $25.99.
Tags: dramatic play , first magnet , first magnet kit , first magnet set , gifts for kids , great gifts for kids , Holiday gifts , holiday STEM toys , magic penny , magic tricks , magic tricks for kids , magnet gifts for kids , magnet kits for kids , magnet toys , magnetic activities , magnetic experiments , magnetic gifts for kids , magnetic kits , magnetic kits for kids , magnetic magic tricks , magnetic maps , magnetic sweets , magnetic toys , magnetic US map , map of the US , oversized magnet , role play sets , science kit for kids , STEM gifts for kids , STEM kits for kids , STEM toys
Share This: