Four Fun Ways to Use Engineering Design Process Magnets!!

We asked, you answered… and now we're sharing! (What can we say – we're very social!) We showed our Engineering Design Process Magnets to teachers around the country, and they came back with four fun ways to use this handy, STEM-based set. With four different activities and colorful, clear magnets for the Ask, Imagine, Plan, Create, and Improve steps, including sub-steps for each, it couldn't be easier – or more fun – to teach this crucial thought process.
1. STEP BY STEP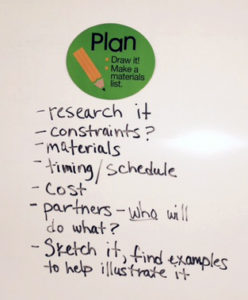 Introduce the basics of each step of the Engineering Design Process with this one-at-a-time approach. First, choose your problem – could be a fun engineering challenge such as building a catapult for mini-marshmallows, or a real life challenge, such as figuring out how to improve the rushed school lunch period. Then place the magnets, one at a time, on the board, beginning with Ask. Keeping your problem in mind, discuss each step, using the sub-step notes on each magnet, in relation to your chosen problem, until you've cycled through each magnet and completed the process.
2. CIRCULAR PATTERN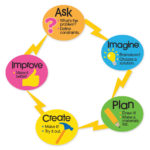 This round-about method demonstrates the complete cycle of the Engineering Design Process in a visual way. Simply place all of the magnets on your whiteboard in a circular pattern and move through the steps, beginning with Ask. Once you've made your way around the process, you can begin again with Ask, using this step to address any ideas you came up with in the Improve step or to address a new problem.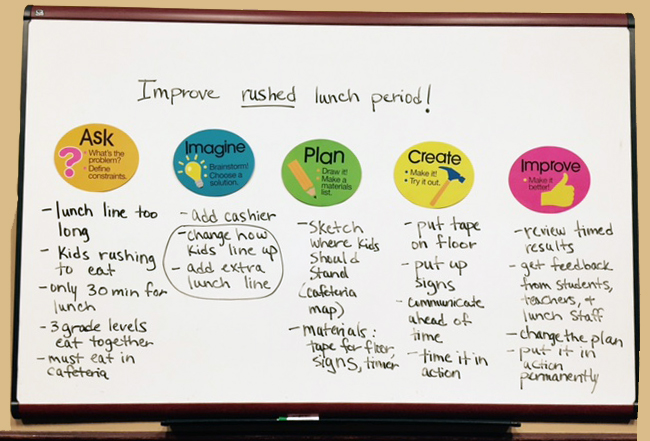 3. HORIZONTAL PATTERN
Dig deeper into each step and involve your students at the front of the room with this activity idea. Place each magnet in a horizontal row across your whiteboard, leaving enough room to write notes underneath each one. Beginning with the Ask magnet, call one student up to the board to make notes underneath each magnet. Move through the process until you reach the end. Then review each step and the notes captured as a group.
4. VERTICAL PATTERN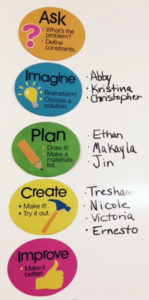 Once your students understand the Engineering Design Process, assign them each their own projects. Students choose the problem they'd like to solve. You track the step they're on by placing the magnets in order in a vertical row along the edge of your whiteboard. Then simply note which student is on which step – or have your students come up and move their names as they progress through the steps (our Magnetic Name Plates would make this sooo much easier!). You'll be able to track progress at a glance and quickly see who needs help, who's moving too quickly, and who's ready for another assignment.
A key STEM topic, engineering is now required per the science standards. The oversized, flexible magnets in our Engineering Design Process Magnets help you model the entire engineering design process and provide the tools you need to guide elementary and middle school students through in-depth work at each step. Set includes 5 colorful ovals (steps) and 5 fun lightning bolts to connect the steps. Ovals measure 9.5"W x 8"H each. MSRP $20.99.
Tags: Engineering , engineering design process , engineering magnets , magnets , STEM , teacher-created , teaching engineering
Share This: