Come See Dowling in Dallas!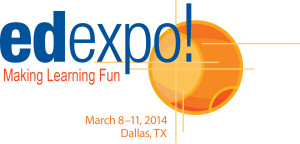 Dowling Magnets will be exhibiting at Ed Expo 2014, March 8-11 at the Dallas Convention Center, booth # 5609.
Ed Expo is the premier showcase for the latest innovations covering every facet of learning, from instructional materials, teaching aids, and technology products to educational games, toys, and supplies. Ed Expo connects buyers and sellers in the educational products marketplace and provides education and training to help dealers increase sales.
This is an industry event dedicated to making learning fun – so at Dowling we feel right at home. Be sure to drop by our booth (#5609) to see our wide array of products that can help preschool and elementary school-age children with lessons in Science, Math, English Language Arts and Early Learning. And don't miss our great Teacher Resource products for organizing the classroom.
Please take advantage of this opportunity to meet with our magnet experts, who will be demonstrating some of our kits and experiments, and who have some great ideas on how our educational magnetic solutions can be incorporated into classroom lessons and activities.
More information on Ed Expo 2014: http://www.edexpo.com
Tags: Dowling Magnets , Ed Expo , magnetic products , NSSEA
Share This: