Alphabet Magnets: Gateway to a College Scholarship?
Alphabet Magnets: Gateway to a College Scholarship?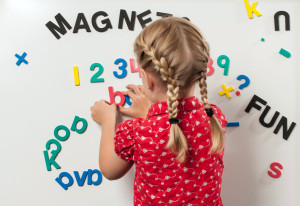 It's important to give your kids a head start on reading and spelling. Simple lessons learned from home can help place them ahead of the learning curve once they enter kindergarten – keeping them on the "right path" through high school honor rolls and college scholarships.
It all begins with the basics, and nothing is more basic than learning the ABCs. There are several fun and creative ways to help young children learn the alphabet, and Dowling's alphabet magnets can be used in many of them. In fact, the added treat of the "magic" of sticking magnets can help to keep a child's attention focused on the lesson being taught.
One of the first exercises parents teach their kids is how to spell their name. Begin with Dowling Magnets Foam Fun Lowercase Alphabet Magnets or Uppercase letters Alphabet Magnets, allowing children to choose the correct letters found in their name and place them in the proper order. When children learn to write their letters, they can use the alphabet magnets as a guide.
The "Alphabet Song" has helped generations of children with their ABCs. Mix up a set of alphabet magnets on a board or a table, and have a child pick out each letter as it is sung.
Separate capital letters and lower-case letters, and have you child practice putting the correct pairs together.
Use flashcards or photos from magazines of everyday objects, and quiz your kids on finding the first letter of the item pictured – or have them try to spell the word.
Finally, find a subject in which your child has already expressed interest, whether it's baseball or horses or a favorite cartoon, and use alphabet magnets to spell out words associated with that subject.
These simple alphabet letter games can help prepare a child for the first day of school and ultimately a lifetime of learning enjoyment – perhaps resulting in a place on the honor roll, or a full-ride scholarship. By mastering the alphabet at a young age – all things are possible!
Alphabet Magnets: Resources
To order our alphabet magnet products or any of our magnetic educational toys and games, click here.
Tags: alphabet magnets , Dowling Magnets , magnet letters for the fridge
Share This: